Due to a number of acute health factors as a result of a lengthy (& ultimately unsuccessful) pyometra treatment designed to save her reproductive health, Rumour underwent spay surgery at our old vet clinic and then had to spend 4 days in the ICU at an incredible Emergency Vet Clinic. Needless to say, she will not be having puppies. She will instead, spend the remainder of her (hopefully very long!) life here with us, soaking up love & attention, having fun in the Rally ring with me, and just 'being a dog'. It just stands to reason that this lovely girl who brought forward some incredible dogs from the past, would end up not passing on her lineage.
Anyone who tells you breeding is easy & you'll make lots of money, hasn't got the foggiest idea what they're talking about.
---
Despite being a "Covid Puppy", Rumour easily finished her Canadian Championship in 6 shows with 4 majors in 2021.
She went back into the show ring again in late May of 2022 and finished her her Canadian Grand Championship in just 6 weeks, topping it off by winning Best Opposite Sex in Specialty at the Canadian Mastiff Club National Specialty!
She has matured into a lovely, thick girl with quite the 'bootay' and a beautiful headpiece. Her health testing is complete, and while we were quite excited for the prospect of her becoming a mother in early 2023, we are happy to settle for just having here here with us after her medical emergency in December.
Rumour is our keeper from the Wednesday & Bandit litter we had in 2019. She is sweet, funny, and an abject kleptomaniac like her momma! If your boots or shoes aren't put up out of her reach, they're considered fair game... as are pants, remote controls, gloves, etc. She takes such joy in stealing things, that I almost feel bad stopping her! Almost. Rumour hasn't met a person she doesn't like, and her favourite place to be is either directly behind my feet while I'm at the stove/sink, or curled up on the couch with one of us.
Her registered name came from the white question mark she had on her chest for the first 8 weeks of life... that has since partly dissolved and no longer looks like what it used to. Instead, her eyebrows now look like an almost perfect set of horns, which is kind of fitting I think! LOL
DOB: May 29, 2019
HEIGHT: 29"
WEIGHT: 160lbs

Dam: MBPIG, BBPIG, BBES CanCH Bendegeit's Ruby Tuesday
Sire: AmCH Britestar's Kodiak Bandit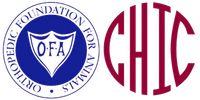 Health Testing Results
Click HERE to see Rumour's OFA health testing
(copies of other tests will be emailed upon request)

| | |
| --- | --- |
| CARDIAC (auscultation) | Normal - January 2022 |
| CMR | DNA: Normal by Parentage |
| CYSTINURIA - DNA | DNA: (Normal) |
| Degenerative Myelopathy | DNA: Normal by Parentage |
| ELBOWS | MF-EL6686F28-VPI (Normal) |
| EYES (CAER) | MF-EYE853/30F-VPI (Normal) |
| FLUFFY GENE | DNA: 1-1 (Normal) |
| HIPS | MF-10163G28F-VPI (Good) |
| PATELLAS | MF-PA3448/28F/P-VPI (Normal) |
| PRA | DNA: Normal by Parentage |
| THYROID | TBD |
TEMPERAMENT
ATTITUDE TOWARD OTHER DOGS:  friendly
ATTITUDE TOWARD STRANGERS:    friendly
ATTITUDE TOWARD NEW SITUATIONS: curious/at ease
 
| | | | |
| --- | --- | --- | --- |
| COAT COLOR  | Apricot | BITE | Scissors |
| COAT LENGTH | Standard | NAILS | All Black |
| EYE COLOUR | Dark | BONE SIZE | Large |
| WHITE MARKINGS | Small patch of white on chest | ANGULATION | Moderate |
| MASK | Standard, black ears | TAIL LENGTH | Standard |
Am.Ch. Iron Hills Miss Clairol

Am.Ch. Yama Bushi Shin Rei

Am.Ch. Gentry's Britestar Panda

Am.Ch. Britestar's Fallen Angel

Am.Ch. Britestar's Storm Trooper

Am.Ch. Lionsire Kerry of Britestar